In-House Design, Mold Making, Molding, Assembly & Packaging
Since 1964 our family owned business has maintained the same core principles focused on delivering personalized customer service, satisfaction and quality in the field of custom injection molding and mold manufacturing. Specializing in engineering thermoplastics, we can produce the parts needed to excel in today's competitive environment. At Cavallero Plastics, we are consistently advancing the development of our products and services in order to be in the forefront of breaching technological advances. Our devoted personnel take pride in their work and use a solution-based approach to achieve maximum reliability and satisfaction for our customers.
Quality Assurance
Above all else, we believe that quality should be the foundation of any service and understand that the smallest margins differentiate good from excellent parts. Our quality control team works in conjunction with other departments keeping open lines of communication for troubleshooting improvement and quick call to action. Utilizing SQC pack software, we are able to maintain tight tolerance and critical dimensions throughout out production runs. By analyzing the process and implementing Statistical Process Control, we're able to assure the parts stay within established control limits at all times throughout production.
Measurement Capability:
Through implementation of our software and equipment such as the Three Axis Coordinate Measurement Machine, MicroVu Video Inspection System with computer interface, and Microscopic inspection for special requirements provides us with the in-depth ability to analyze
the tightest tolerances.
Statistical Techniques:
For experimental design on the most complex parts, we employ JMP software and SQC Pack Software for analysis. On tight tolerance or critical dimensions, we statistically analyze the process with Statistical Process Control to assure the parts stay within the mean.
We implement a three-tiered system to assure product quality:
A First Article inspection on new products.
A Process Capability study to set a baseline and product inspection standards
Continuous product inspection throughout production runs
Quality Technician Operating a CMM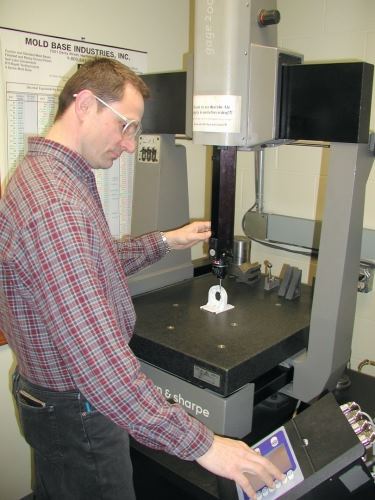 Cooridinate Measuring Machines (CMM) are used to precisely measre parts to be sure they are within specification.
Quality Technician Operating a CMM
Cooridinate Measuring Machines (CMM) are used to precisely measre parts to be sure they are within specification.
Types of industries and markets we work with:
Since our inception as a full service plastic manufacturing company, we have worked on projects for a wide range of industries across the market. With our experience and know-how, our team can meet specific needs of multiple industries from housewares to medical to aeronautics and everywhere in between.
Our fully integrated departments understand that each market is diverse; therefore each project requires a custom approach. This custom approach plays an intricate role in customizing parts with consideration to industry regulations while preventing future roadblocks.
Markets served:
Medical
Fluid Filtration
Aeronautics & Aviation
Military & Defense
Electrical
Construction
Housewares
Sporting Goods
Fuel Cell
Contact Us today to speak with us about your project.